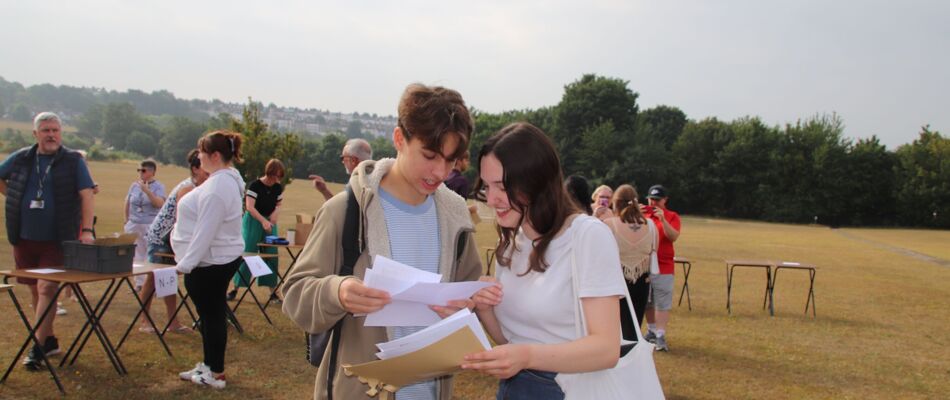 Today, August 18th, is A level and AGQ results day. Below you can see reaction, news, and case studies from our member colleges as they celebrate the achievements of their incredibly resilient students.
King Edward VI College, Stourbridge
Students at King Ed's have had an amazingly successful year, with record numbers of high grades (36.8% A*-A), A* grades in every subject, and 17 confirmed Oxbridge places. These results are a true testament to the dedication and resilience of students and staff at King Ed's, all of whom worked hard to make sure that every opportunity to learn was taken. Talented and driven staff made sure that the curriculum was covered seamlessly and that students were looked after. With the support of their families, students rose to the challenge and worked tenaciously to achieve a record set of grades, with an overall pass rate of 99.6%
87.4% of students achieved A*-C, and 67.4% achieved A*-B, in both cases 5% above the national average, setting students in good stead to secure university places and career opportunities.
Holly Bembridge, principal of the college said, 'Our students should feel incredibly proud of the resilience they have shown in getting themselves ready for the first A level exams in several years, with these results giving them a head start as they set out on their path towards a fulfilling career. We have seen their potential to do tremendous good, and with over 200 students moving on to train as key workers, we expect that society will soon be benefitting from their skills.'
Newham Sixth Form College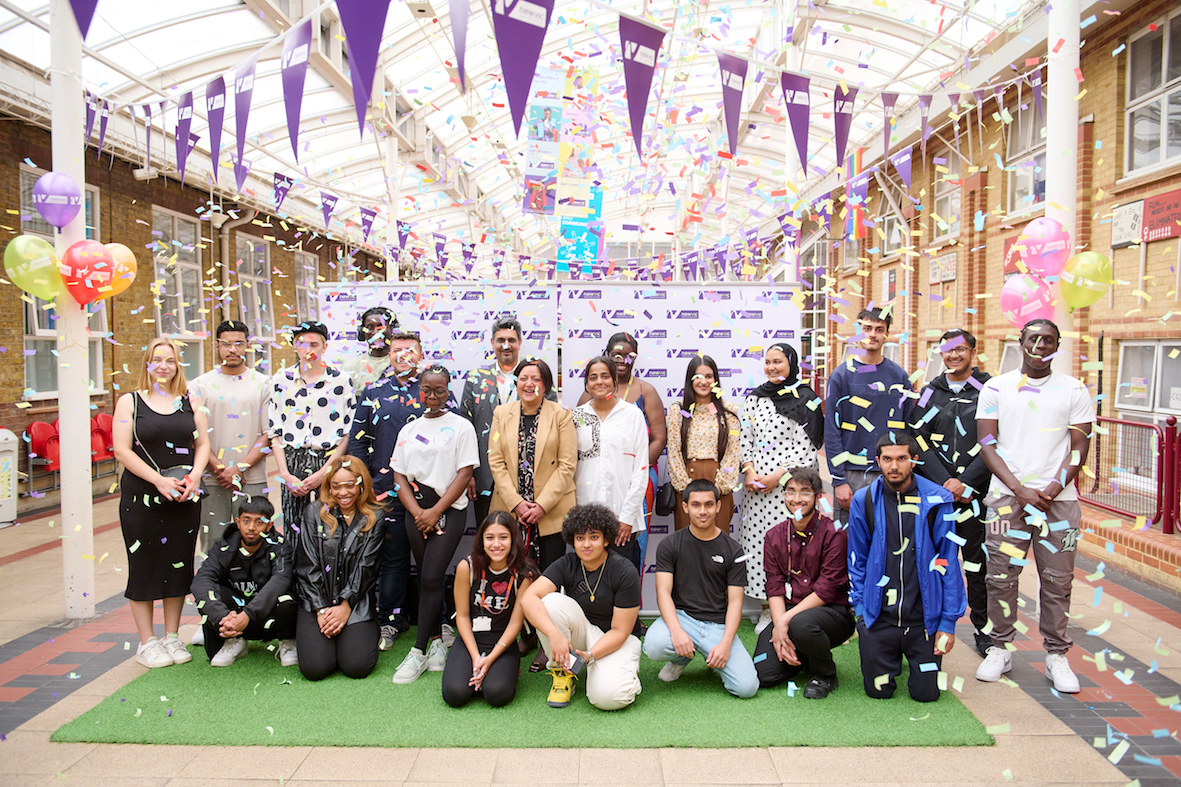 New VIc hosted a celebratory event on results day to mark the first time students have sat national exams since the pandemic.
Principal, Mandeep Gill said: "I am always very proud of NewVIc on results day. As a college, we are very clear that the grades a student arrives with are far less important than where they want to go. At NewVIc we continue to demonstrate that with the right support and opportunity, students from all walks of life can truly achieve what they want. I'd like to congratulate all the students progressing to University (UCL, Imperial, Westminster, Edinburgh to name but a few), whether via A Levels, T Levels or vocational routes, along with those who are taking up apprenticeships or employment. It's been the first year for T Level results and I'm delighted that we have had a 100% pass rate so look forward to seeing how this cohort progresses. It's great to see staff, who have worked hard throughout the year to ensure that students meet or exceed their own expectations, celebrating alongside students and parents. It really is a team effort." A big thank you to Newham Mayor, Rokhsana Fiaz OBE and Councillor Joshua Garfield, Cabinet Lead for Education for joining us on the day.
Newham Mayor Rokhsana Fiaz said: "I am so proud of all our young people in Newham who have worked so hard in the most difficult and disruptive of Covid-19 circumstances to pursue their passion for learning and achievement." Councillor Joshua Garfield, Cabinet Lead for Education also added: "Our fantastic educational institutions provide a wealth of opportunity for young people in Newham, and this year's results demonstrate that our students continue to be among the best in Britain for academic achievement. I am thrilled by the number of young people successfully completing apprenticeships and receiving their BTEC, A Level and T Level results."
Christ the King Sixth Forms, London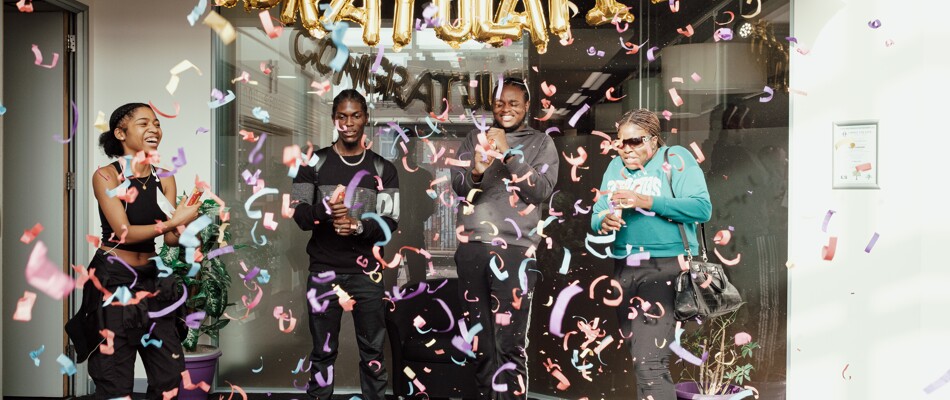 Almost 1000 students at Christ the King Sixth Forms (CTK) are celebrating record successes in both A Level and BTEC qualifications with another great year of results and prestigious university destinations. Despite the challenges created by the COVID pandemic, students have shown resilience and determination to land top grades and university places. Christ the King has three sixth forms across Southeast London and Kent and yet again CTK students were able to achieve outstanding A Level and BTEC success and secure places at their chosen university destinations.
In the first set of A Level exams taken in the UK since COVID, students at CTK Aquinas have achieved record results, with a 99.2% A Level pass rate and 20 A Level subjects achieving a 100% pass rate. This is especially impressive being above the national UK pass rate of 98.4% in a year when grades were expected to fall. Over 600 students at CTK studied BTEC extended qualifications (3 A Level equivalent) with a pass rate of 99% and 74% of those receiving Distinction or above. Many of these students have achieved places at highly competitive universities.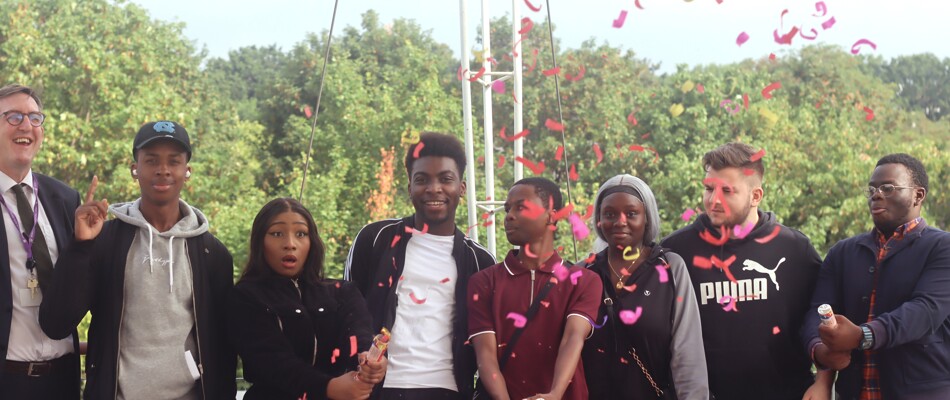 CTK Executive Principal, Shireen Razey, said: "I am so proud of our students as they move on to their chosen next steps. Despite the challenges of the COVID pandemic, students at each of our specialist Sixth Forms have shown real resilience and determination to succeed in their studies and I am delighted to be able to celebrate their outstanding results today. I know that the staff at CTK will join me in congratulating students on their hard work and impressive achievements on both BTEC and A Level courses. This is a phenomenal achievement and is testament to the hard work and dedication of the specialist teaching and support staff who have supported the students in their studies. I wish each of our students every future success in their university, apprenticeship and employment destinations and look forward to hearing of their great successes as CTK Alumni."
Woodhouse College, London
Students at Woodhouse College are celebrating an unprecedented set of A level results today having established a new college record for high grades with 83% of results graded A*- B. The college was recently graded 'outstanding' by Ofsted and has certainly lived up to its reputation for excellence.
This year group had a really challenging start to their A level journey during the second Covid lockdown and had no prior exam experience as their GCSE's were cancelled. They have shown real resilience and worked hard to develop the key skills they need to help them thrive at university and the wider world of work.
Key results day headlines:
83% of grades at 'high grade' A*- B
62 students achieved three or more A* grades
256 students got three or more A*/A grades
94% of grades at A*- C
16 subjects had a 100% pass rate
25 students have places at Oxford or Cambridge
Principal Sugra Alibhai said: "I would like to extend my heartiest congratulations to our students who have achieved these fantastic results. Given the national context these are an excellent set of outcomes and are a testament to the hard work of our students and staff at the College."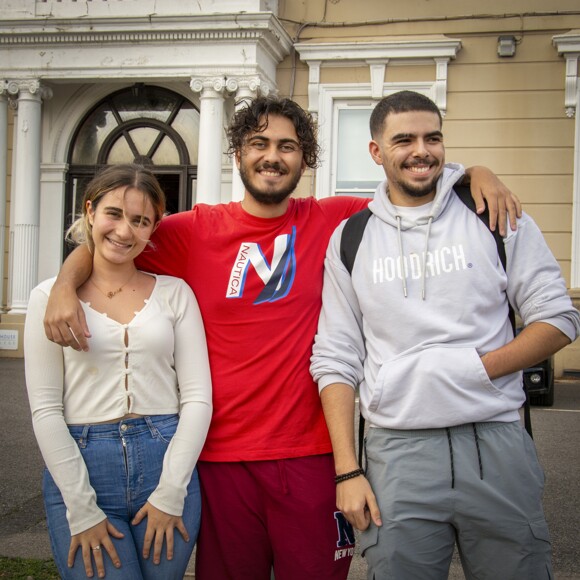 Adam (right) got A*AAA in maths, chemistry, physics and further maths. "My plan now is to go to Imperial College London to study chemical engineering. It's the first time I've taken exams since year six. I've worked really hard over the past two years but I felt like it all became quite intense towards the end and I had to step back a little and prioritise my physical and mental health over studies, but I'm glad how it has all turned out. I'm very pleased that I got to the university where I always said I wanted to be. My Woodhouse experience has been a pleasure, I've met so many great people - I feel like I've been learning with the future leaders of the world, everyone is so kind and charismatic and it's really inspiring here."
Mohammad (centre) got A*A*A* in biology, business and maths. "I'm ecstatic with my results. I'm planning to go to LSE to study accounting and finance, and then hope to go into an investment banking group. Taking exams for the first time was the most stressful thing, but students shouldn't stress, you achieve better than you think you will here. My family are so pleased and are throwing a party for me later."
Ashton Sixth Form College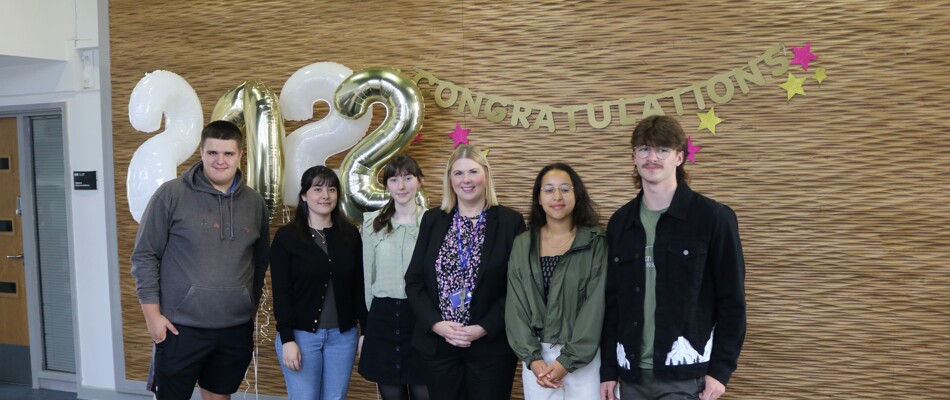 Ashton Sixth Form College is delighted to announce record-breaking results in this year's A-Level and equivalent qualifications. Despite the significant disruptions experienced by the class of 2022 over the past two years, students achieved a near-perfect pass rate with more students than ever before in a normal examination series achieving the highest grades. These results in both A Levels and vocational qualifications show how well students managed to focus on their learning and their preparations for examinations in spite of the Covid challenges they faced.
Result headlines:
More students than ever before in a normal examination series achieved the highest grades
99% pass rate across A Level and equivalent courses
100% pass rate for full time vocational courses
Over 4/5 of vocational students achieved the highest grades of Distinction or Distinction*
43 courses with a 100% pass rate
Almost 2/3 of A Level students achieved the most coveted A*-B grades
More than 4 in 5 grades awarded were at grade C or above.
Across A Level and equivalent courses, students notched up an impressive 1,356 A* and A (or equivalent) grades
A record 9 students have confirmed places at prestigious colleges at Oxbridge
Successes include:
9 Oxbridge applicants secured thei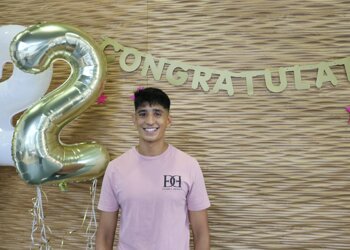 Hannah McCormick, second left above, is going to the University of Durham to study Maths, and achieved an A* in Further Maths, contributing to a record number of A* grades being achieved by Further Maths students in the college's history.
Rikin Mistry (left) secured a place on a rare and highly competitive sponsored degree at The University of Manchester with Pricewaterhouse Coopers to study Business and Accounting.
and many more……
St Francis Xavier Sixth Form College, London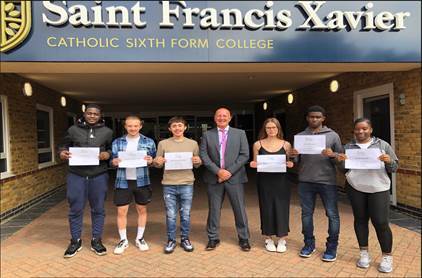 Students have achieved incredibly well across the full range of A level and Applied General (BTEC/ CTEC/ UAL) courses. The overall pass rate at Level 3 was 97% with 45% achieving a high grade (A*-B; D*-D). 27 courses returned a 100% pass rate which is remarkable given the challenges this cohort has experienced over the past three years. As ever, there were some outstanding individual performances with 143 students achieving 3 high grades (A*-B at A level; D*-D for BTEC/CTEC; D-M for UAL).
Graham Thompson, the Principal of the College said: "I am delighted with the success of our students who have worked incredibly hard during this challenging year. I have been so impressed by their resilience and drive to succeed. Many have achieved the grades they need to progress onto their next steps with a record number securing places at the top universities. I feel confident that these students will prove as successful during the next phase of their lives and we wish them the very best for the future"
Prior Pursglove and Stockton Sixth Form College
Students surpassed all expectations in achieving high grades and securing record high A* and A grades – this in turn made it possible for all students to embark on their higher education studies, including Russell Group universities and Oxbridge, to read mathematics, science, languages, law, economics, and social studies, and secure Higher Apprenticeships in diverse spheres.
A Level results include:
Pass rate over 99%
85% subjects achieved 100% pass rates
125 students achieved A* grades
Nearly 60% of students achieved High Grades (A*, A and B)
Asma Shaffi, Principal at Prior Pursglove and Stockton Sixth Form College, said: "As a college community, we have delivered outstanding results this year! I am so proud of our students and staff who worked relentlessly against all the odds and unknown factors in the post-pandemic era. Our students made exceptional amount of investment in their studies this year and these results are a huge success story for themselves - not forgetting the very high standards and expectations our teachers, support staff and managers deploy to get the best out of their students. This will now affirm the university and apprenticeship offers especially those from prestigious universities and nationally renowned employers. This year is even more special for us – a significant number of students will be the first ones in their families to go to university".
Joanna Bailey, CEO of Tees Valley Collaborative Trust, said: "Given the uniquely difficult circumstances experienced by this cohort of sixth formers these examination results are a quite exceptional achievement for the college's teachers, support staff leaders and chiefly, the students themselves. I extend my warmest congratulations and thanks to you all."
Richard Huish College, Taunton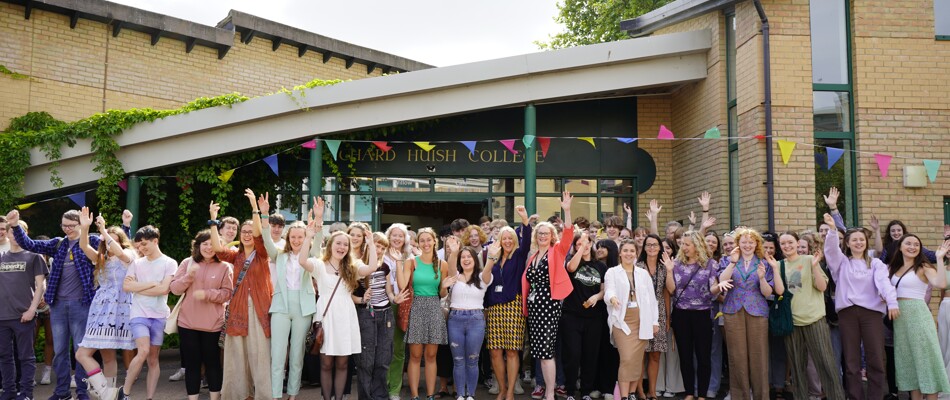 Across A Levels, an impressive 64% of students achieved high grades of A*-B, with 83% of students gaining A*-C. The overall A Level pass rate is an outstanding 99%. Of the students that took Vocational Extended Diplomas, an amazing 66% of grades achieved were the very highest Distinction* or Distinction grade.
An incredible 68 students achieved three or more A*/A grades in their A Levels. Huish top performers did extremely well across a very wide range of courses, with 19 students gaining straight A* grades in their A Levels. In addition, 27 students gained the very top outcome of triple Distinction* in their Vocational qualifications. Huish students have more than earned today's results through persistent hard work and commitment, showing that they are a very talented group of young people with exciting and bright futures ahead of them.
The College not only celebrate fantastic results this year but also the vast and interesting range of destinations students on their A Level and Vocational Study Programmes progress onto, from Film Production at the University for the Creative Arts (UCA), Medicine at Birmingham, and Music at Oxford, to Modern European Languages at Durham, and a Software Engineering Apprenticeship with world-leading security and aerospace contractor, BAE Systems. In an especially competitive year for Medicine and Veterinary Science courses, six students have defied the odds and successfully secured their places at university to pursue their dream careers. With acceptance rates cut this year due to oversubscription in the previous year, Huish students achieved some of the highest grades to gain their places to study Medicine or Veterinary Science at a range of top Universities including Birmingham, Liverpool, Surrey, Newcastle and Southampton.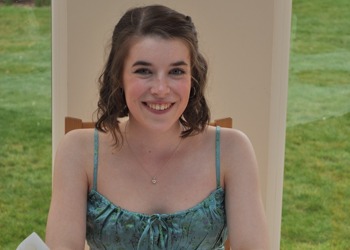 Olivia MacConnell (left) is set to achieve her Veterinary Science ambitions at the University of Surrey after an initial setback in 2021. Despite achieving A* grades in Biology, Chemistry and Psychology, alongside an A grade in Core Maths, her initial Veterinary application was denied. Olivia was not disheartened however and seized the opportunity to complete a gap year as a Teaching Assistant at St George's Catholic Primary School as she reapplied. She shared: "If things don't go as you have planned, don't give up! I have learnt so many skills which will benefit me in the future. Studying at Huish was one of the highlights of my education. I received a high level of teaching from all my amazing subject teachers and was given the opportunity to excel in my chosen subjects. Another highlight has been my time spent as a Teaching Assistant. I've enjoyed the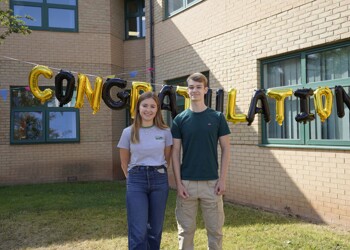 challenge this job role has brought me, allowing me to develop transferable skills in such an encouraging environment".
Amongst the Class of 2022, three students have gained places to study Medicine. Oliver Henden (right), who studied A Levels in Biology, Chemistry and Mathematics and achieved A*A*A* as well as an A* in his Extended Project Qualification, will be going to Birmingham. Celebrating his results, he shared: "My favourite thing about Huish has been the atmosph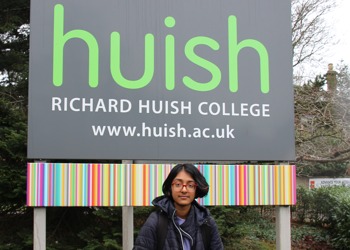 ere, the social life at Huish has been really nice".
Amongst this year's successes, there are also five students headed to Oxford and two students headed to Cambridge. Johannah Mathew (left) is continuing her Music studies at Oxford after receiving A* grades in Music and English Literature and an A grade in Chemistry. She was heavily involved with EnRICH activities at the College, and was shortlisted in the College's creative writing competition, the Ross Paterson Award.
Bilborough College, Nottingham
Students at Bilborough College are celebrating outstanding results again this year, rewarding the huge effort they have made over the last 2 years of study. Bilborough College students achieved an A-level pass rate this year of 99% and A*-C grades of 81%. The college also saw 100% pass rates on all BTEC courses, rewarding the hard work and assignments completed by all BTEC students.
David Shaw, Principal at Bilborough College, congratulated students on their results. He said, "Along with the rest of the staff team here at Bilborough, I'm delighted that once again so many of our students have performed so well. Everyone has worked so hard in such challenging circumstances over the last 2 years, so it is great to see all the effort and dedication rewarded with excellent results.
"This cohort of students have not had an easy time, as they missed out on sitting GCSEs due to the first wave of COVID, and then suffered further disruptions from national lockdowns. It has therefore been a credit to their flexibility and resilience that they have completed their A-level and BTEC courses with such success as we returned to exams for the first time since 2019."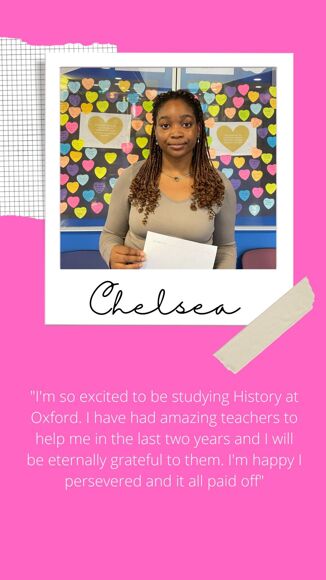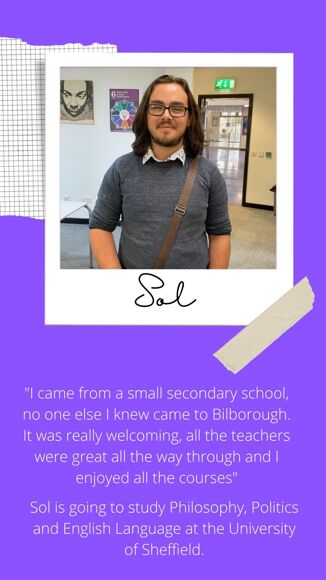 The Sixth Form College Farnborough
Principal Catherine Cole said: "Firstly and most importantly, congratulations to all our students who received their results today. As the Principal of the College, I am extremely proud of these results. They should be read in the context of the fact that this cohort of students had a truncated end to their GCSEs due to the Covid-19 pandemic. They then did not know whether they would be sitting formal exams or not and this led to high levels of anxiety. It also created extra work for teachers who were unsure of whether they were preparing students for exams or for Teacher Assessed Grades.
Our students achieved an amazing 99.4% pass rate in their A levels, with 46.2% of students gaining A* to A - a fantastic achievement! These results put us in the top 1% of national providers for A level outcomes. Vocational results were equally impressive - students achieved a 95.6% pass rate, with 77.9% of them gaining high grades. I would also like to mention the 148 students who got three or more A*/Distinction*s - these results are truly exceptional and I know how hard you will have worked to achieve them.
I am equally proud of the achievements of 23 students who studied at the College for three years. They all started at Farnborough on a one year level 2 programme, as they did not have the required GCSE grades for level 3 study. Having successfully passed their level 2 courses, they then progressed onto studying level 3 courses over two years. These students have now achieved between them three Distinction*s, seven Distinction* Distinctions, three As and 12 Distinctions. I hope these brilliant results have enabled you to move on to the next steps in your journey, whatever they may be!
For those students going onto university, an astounding 95% of those placed (so far) have been accepted to their first choice university!"
Worcester Sixth Form College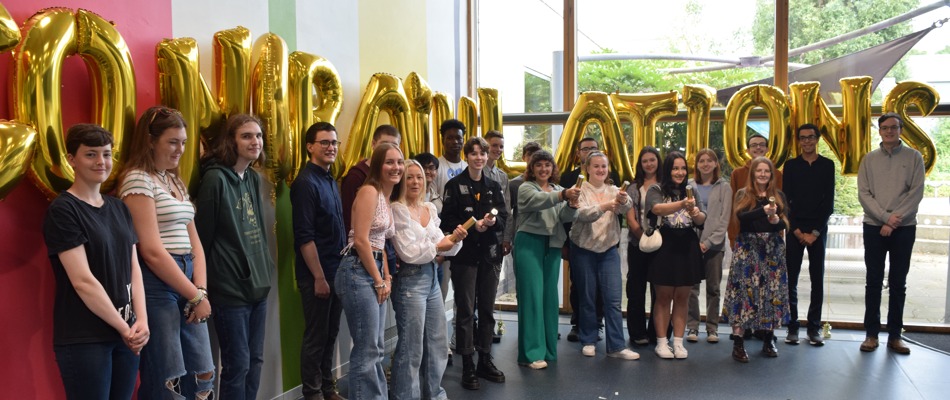 The College's A Level pass rate of 99.5% (grades A*-E) continues to be significantly higher than the national average (98.4%) with an equally impressive performance from students in Applied subjects. Particular successes included Edie Allden (A*AA), Daniel Espiritu (A*A*A*A*), Emmanuel Adesola (A*A*A*A*), James Thatcher (A*A*A*) and Roch Mirski (A*A*A*A*) (left to right below) who will take up respective places at Exeter College Oxford, Worcester College Oxford, Gonville and Caius College Cambridge, Queen's College Oxford and St John's College Cambridge.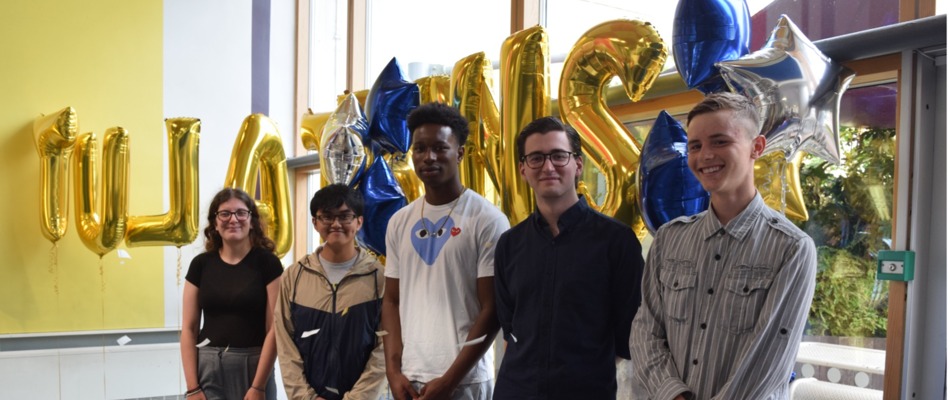 Principal, Ed Senior, said: "I am immensely proud of what our students have achieved this year. Their excellent results in both A Level and Applied subjects reflect their hard work, commitment and ability. Our students, like others across the country, have faced and overcome unprecedented challenges over the last two years to complete their studies and secure university places, apprenticeships or employment.
As well as those students who have attained outstanding academic success, I am also proud of students who have achieved to their potential and it is to their credit that they have succeeded in the context of sitting their first external exams since Year 6. The results are also testament to the skill and dedication of our staff. In addition to academic support from their teachers, our students receive outstanding pastoral support from their tutors, careers advisers, and other members of staff which is a significant part of their overall success."
Shooters Hill Sixth Form College, London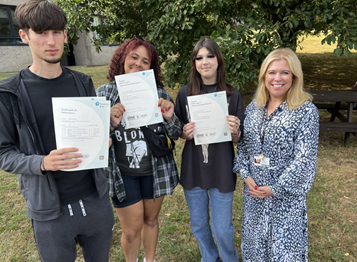 Students waited anxiously in and around the building to collect their results as the doors were finally opened this morning. Hesitation and apprehension was soon met with faces of joy and relief as many opened their envelopes to reveal that this year's hard work and effort means that they are off to universities and work placements all over the country! The college is looking forward to another set of outstanding results on GCSE and Level 2 results day - Thursday 25th August.
Principal Geoff Osborne said: "An amazing year of results from both our A-Levels and all our Level 3 students. I am thrilled that the college's achievement rates continue to improve, especially this academic year where the majority of our students are sitting exams for the first time. I am also excited that most students have been able to secure their first choice university placements. Irrespective of what each individual student has achieved, we are proud of them all for their hard work and dedication in working through such difficult circumstances. We wish everybody the best of luck for their futures and we can't wait to hear about all of their well-deserved success. Thank you to all teachers and support staff for all your hard work in helping to transform the lives of our students."
Maitree, a student in business and financial studies, said the college experience was: "Definitely not easy, but my teacher made it easier with support, especially my business teachers.They didn't just focus on the class, they focused on me as an individual. I am now leaving SHC with a Distinction* and a Distinction."
The Sixth Form Bolton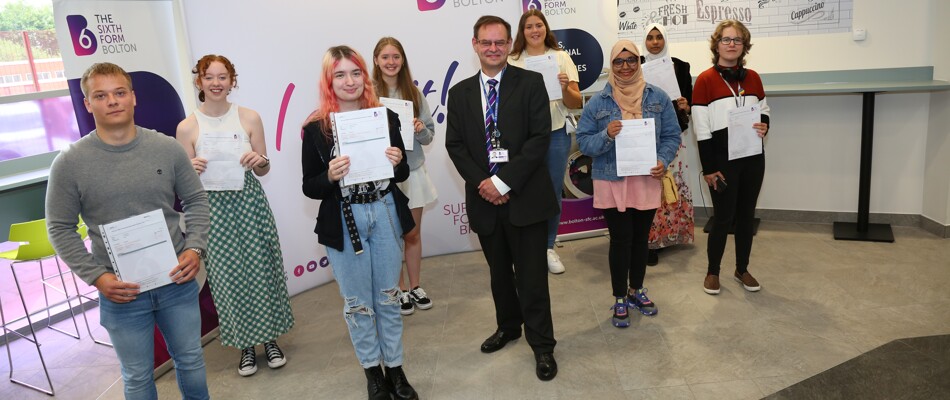 Staff and students at The Sixth Form Bolton are pleased to celebrate another year of outstanding Advanced Level results, affirming their position as a nationally high achieving Sixth Form College. With students studying both academic and vocational qualifications performing above national benchmarks, the vast majority of students achieved the grades they need to move forward. The Sixth Form is pleased to announce an overall 99% pass rate for A Levels with 75% of all subjects achieving a 100% pass rate and 75% BTEC Extended Diploma students achieving the highest grades (Distinction* or Distinction). In this year of return to formally examined assessments The Sixth Form Bolton continues to maintain impressive outcomes for Its students.
Principal, Stuart Merrills, said: "Given that for the majority of students this was their first ever formal externally set and marked examination series, staff and students have been nervously awaiting this series outcomes. As a Sixth Form we are again extremely proud of our students and the results they have achieved. After a difficult few years in their education, our students' hard work and dedication has come to fruition in the form of an excellent set of overall outcomes. The majority of our students will now again secure their places at universities across the country, progressing to study a broad range of subjects encompassing: sciences, medicine, law, business, music, arts, sports and humanities." The Sixth Form has one of the highest national progression rates to Higher Education out of all the categories of post-16 education.
These results come at a significant time for The Sixth Form Bolton as it enters its 25th year as a stand-alone Sixth Form College. Many students across the years have benefitted hugely from being at a sixth form with a great track record for its student achievements and the Principal, Senior Management and Staff look forward to its new cohort in September and continued success.
Birkenhead Sixth Form College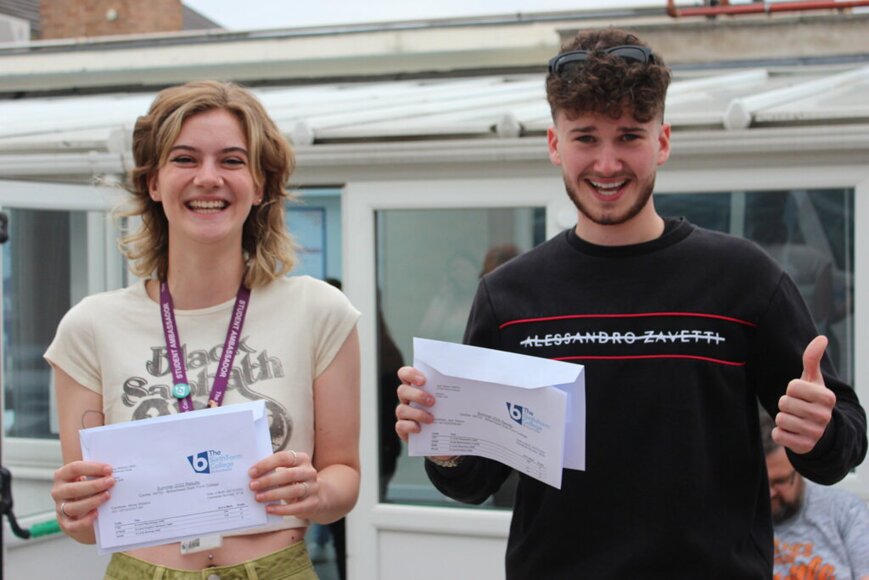 Birkenhead Sixth Form College is celebrating their students' best ever A Level results in the first year that exams have been sat since 2019. With the expectation that students would struggle to cope with the demands of taking final exams for the first time in two years, the college's students achieved a ground-breaking high grade percentage of 60.4% of all grades being between A*- B at A Level.
The students' results come off the back of never having sat official GCSE exams, and are a product of a calm, diligent approach to specialist sixth form education and a determination to never let circumstances stand in the way of delivering top class teaching, whether virtually or in-person. Over 80% of final year students will now go on to university, with many being the first generation in their family to do so. The range of undergraduate courses that students now move to spans from medicine and veterinary science to engineering, nursing, law and real estate.
Four students earned the astonishing clean sweep of top grades with four A*s each, while the College's out-going head students Abbie Williams and Jack Sibeon achieved two A*s within their results, enabling them to go to their first choice universities. Other students from the College are starting prestigious and highly competitive apprenticeships in September, choosing a different route to their future careers.
Hereford Sixth Form College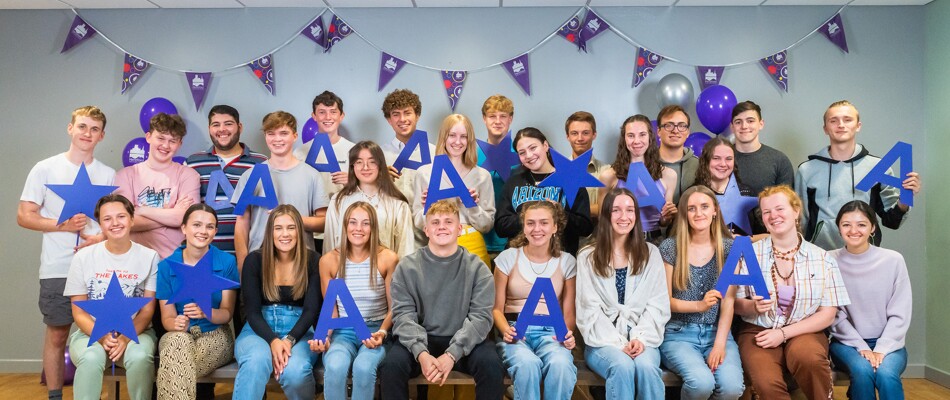 After two years of Centre and Teacher Assessed Grades (CAGs and TAGs) and with students never having sat external exams previously, it was back to business as usual at Hereford Sixth Form College. A Levels once again exceeded the national level with 35.4% of grades at A* or A with an overall pass rate of 99.1%. This is a huge success story. A remarkable 87 students achieved all A*/A grades with a further 142 achieving 3 A/Distinction grades or more. On applied courses, 51.3% of students gained Distinctions, with an overall pass rate of 99.2% for year two.
Libby S (back row right holding an A, with dark hair), a former St Mary's RC High School student, is celebrating an amazing A*A*A*A* in her A Levels. She said: "The teaching here is excellent and I always felt supported. The facilities at the College are amazing and I was so pleased to be able to be part of the Netball Academy throughout my time here." Libby will be studying Veterinary Medicine at the University of Cambridge.
18 students in total will be taking up their Oxbridge places, 12 at Oxford and 6 at Cambridge. The college is also delighted to celebrate the success of students who have secured degree apprenticeships with national and international companies. These include IBM (Digital and Technology Solutions) and Laing O'Rourke (Civil Engineering).
Amy M (front row left in the stripy vest), who previously studied at Bishop of Hereford's Bluecoat School, achieved an outstanding A*A*A in her A Levels. She said: "The teachers were all supportive and excellent throughout all of my subject areas. The College has been a great stepping stone between school and university, providing both support and giving students independence." Amy is planning to study Psychology at Loughborough University.
Loreto College, Manchester

Loreto Sixth Form College students and staff have delivered incredible results in 2022. As a College community, Loreto has a long and proud history of academic achievement and outstanding results, 2022 is no different and the cohort have embodied the Loreto core value of Excellence.
99.7% Pass rate at A Level
40 Level 3 courses with 100% pass rate
3536 high grades (A*-B) awarded on Level 3 courses
98% A*-C grades on the EPQ
22 students gained places into Oxbridge
99.1% pass rate on BTEC Extended Diploma courses
100% pass rate in NOCN Employability Certficate and functional skills for Pathways students
Principal Michael Jaffrain said: "Our results are testimony to the hard work of students and staff. Every college Principal was awaiting the summer results this year with some uncertainty following 2 years of disruption to education and the return of Summer Examinations. This year's results demonstrate that Loreto students and staff have responded to these challenges, as they always do, with hard work, commitment and passion. I am very proud of the achievements of our students and wish our graduates of 2022 the very best in their next steps in Higher Education, training and employment."
Huddersfield New College
Huddersfield New College's class of 2022 have secured a fantastic 98% pass rate for A Level and 97% pass rate for BTEC, with 60% of these grades being the much coveted high grades (A*-B or equivalent), placing the college in the top colleges nationally for student progress on Advanced Level qualifications.
Marcus Smith-Connor, Principal comments: "I would like to congratulate our Class of 2022 on their results. Our graduating Year 13 students have not only had to contend with the usual pressure of exams, but also three years of significant disruption to their studies. Their resilience in the face of this has been awe-inspiring, and the qualifications they have obtained are opening the doors to exciting destinations and empowering them to shape their own future. Their hard work, resilience and determination over the past two years has paid off today, and will continue to ensure they excel in their future endeavours. Today is a new chapter for our outgoing Year 13, and I wish all of them the very best as they embark on the next stage in what we are sure will be an incredible journey!"
Ryan Haughin (left) studied A level law, business, and maths, getting three A grades; he's off to Newcastle to study Maths and Accounting.
Ivin Chan (centre) studied A level 3D design, maths, and computer science, achieving A*BB, and is going on to a prestigious Airbus degree apprenticeship.
Muniza Sajjad (right) achieved a triple D* in BTEC applied science, and will be studying optometry next year.
St Brendan's Sixth Form College, Bristol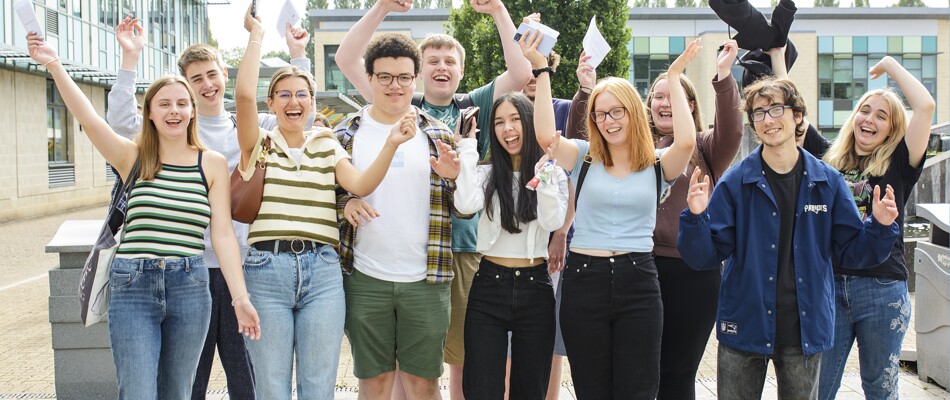 St Brendan's Sixth Form College is celebrating tremendous success, as their A level and BTEC results are published this year. Even with the disruption to education over the last couple of years, students there have managed to achieve a pass rate of 97% including 857 high grade passes. 59% of grades achieved by students taking Level 3 BTEC and Applied General courses were either Distinction or Distinction* (Star), which is the highest grade possible; and over 20% of this year's cohort achieved hi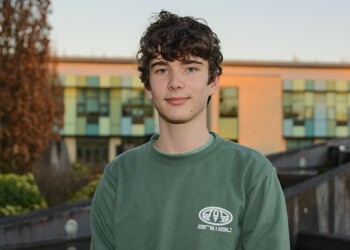 gh grades across all of their subjects (A-levels &/or BTECs).
Most students at St Brendan's have progressed onto their chosen destinations in spite of the difficulties they have faced. Over 500 students applied through UCAS this year and the majority will be going to their first choice University. Amongst these are 6 students who will be taking up their places to study Medicine or Veterinary Medicine. 3 students successfully took part in the Bristol Scholars Scheme and have achieved a place at the University of Bristol. They will be studying for degrees in Law, Medicine and Business Management.
Jamie is amongst the college's high achievers. He secured three A* grades in Computer Science, Maths and Further Maths and an A in Physics and will now be going on to take up a place at the University of Oxfor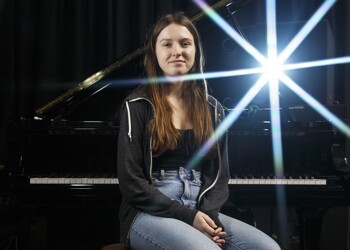 d to study Computer Science.
A record number of students have secured apprenticeships in many different fields including accounting, law, business and engineering. They will be taking up employment with companies all over the region including Rolls-Royce, Grant Thornton, NHS, Ministry of Defence and BT.
Jessica achieved four A grades in Biology, Maths, Music and EPQ and will now be going to Leeds Conservatoire to study Music.
Cardinal Newman College, Preston
Cardinal Newman students are celebrating the best results ever as the return to exam-based results has signalled a return to huge successes for our students.This year, the college has bucked the national trend with an overall A-Level pass rate of 100 per cent, and 77 per cent of students achieving grades A*-B at A-Level. The high grades that students have achieved this year have been unprecedented, with almost half of all grades awarded being either an A or A* and 4 out of 5 students achieving A* - B.
There have also been huge successes in individual subjects, with 62 per cent of Further Maths students achieving A* as well as over a third of A-Level Maths students achieving the same grade. BTEC results were also something to shout about, with 82.5 per cent achieving high grades.
Leyton Sixth Form College, London
Leyton Sixth Form College applauds those students receiving their examination results today and the considerable achievement that these represent. 2022 leavers have experienced unprecedented disruption to their education, personal development and day to day lives and many of them have had to overcome individual trauma, bereavement and ill health in order to complete their studies. Despite these challenges, which should not be underestimated, almost two thirds of students were awarded top A*, A and B grades or the vocational equivalent. These achievements are testimony to the determination and hard work of students and the dedication and support of staff.
Principal Gill Burbridge said: "These results represent a very significant achievement in the face of complex and challenging external contexts and their personal and individual ramifications. This year group was denied the opportunity to sit their final GCSE exams so have had no experience of public examinations. They have had to endure months of remote learning, isolation from their peers and the economic, psychological and health impact of COVID-19. We are therefore immensely proud of their achievements in the face of considerable adversity and delighted that so many of our students achieved the success they deserve. We have a high number of students progressing to study at top universities, art and drama schools and conservatoires as well as securing competitive apprenticeships and employment. We are an inclusive college committed to helping students of all educational backgrounds reach their potential and we celebrate each and every individual performance on our academic and vocational programmes. Amongst these wonderful results we are very proud of Keralie and Yasmin who both achieved the highest grades and have secured places to study Modern Languages at St. Anne's College, Oxford and History at Gonville & Caius College, Cambridge respectively."
Aquinas College, Stockport

Danny Pearson, principal, said: "I am thrilled with the overall results this year and that the dedication of all the staff and hard work of students has been rewarded with an outstanding set of outcomes. We realise that there has been heightened anxiety this year and are really pleased that the students have done so well. The commitment, determination and resilience that students have displayed together with the tremendous effort of the staff over the last two years has been justly rewarded. I know how tough it has been, so I hope everyone takes great pride in these results. Initial analysis shows a pass rate of 99% for A Levels with 360 A*s; A*–B high grades at 70%, 20% higher than 2019 (the last time students sat exams) and A*-C of 88%. Incredible results after such a difficult period. The vocational courses are looking equally as good and every bit as strong as the A levels bearing in mind the recent changes. We have been surrounded by happy confident students this morning who are thrilled with their results. Currently 83% students have secured a University place and can start to look forward to their next exciting steps in life."
Solihull Sixth Form College
With the first set of results attained from examinations since 2019, the pass rate at A level this year is 98.7%, with 54% of grades being A* - B. ITV News and Free Radio were in College on Results Day to see students opening up their grades and talking about their achievements.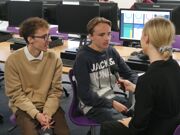 Among the success stories this year are twins Dean and Matt Bridgewater, who share five A* grades and two As at A level. The former Lyndon School students both studied Maths and History and achieved A* grades, while Dean also took Further Maths and Matt studied Biology. They are both progressing to the University of Birmingham, with Dean planning on continuing his Mathematics studies, while Matt plans to study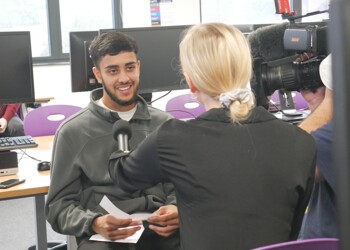 Biological Sciences.
Meanwhile, former Ninestiles Academy student Haisim Siddiq achieved an A and two A* grades in Business, Law and Sociology and is progressing onto the University of Birmingham to study Law. Haisim commented, "I'm really excited and so happy with the grades I got. I can't wait to go to university in September. I was only at the College for two years, but Solihull Sixth Form College has really transformed my grades and the way I thought. It's down to the great teachers that are here. I am overwhelmed. It has been an amazing experience at this College."
Hugh Baird College, Bootle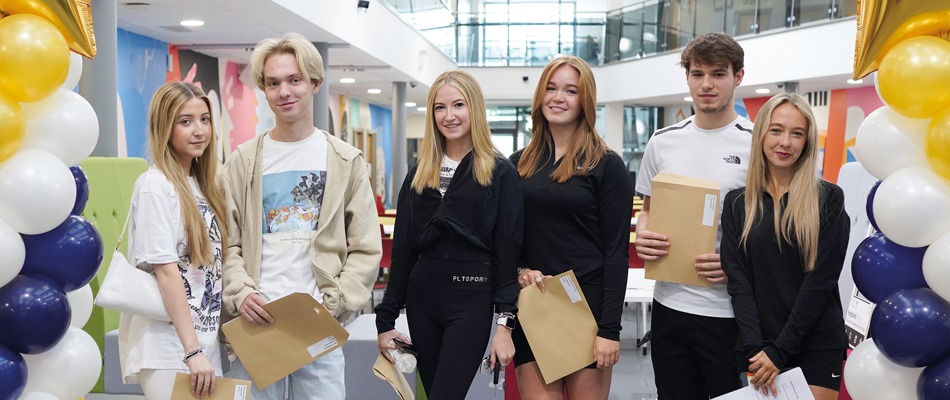 Students and staff at Hugh Baird College's Sixth Form Centre are celebrating yet another set of impressive A-level results. Joe Poole, Assistant Principal at Hugh Baird College, said: "We are incredibly proud of this group of students. They've had a tough couple of years, but they have stuck at it and have been rewarded today. Young people often hear that they are not resilient, but this definitely isn't the case with this group of students."
Due to the excellent results achieved, many students will now be progressing onto study higher education at some of the most prestigious universities including University of Liverpool and Lancaster University. Alternatively, some students are progressing onto degree level apprenticeships or full-time employment.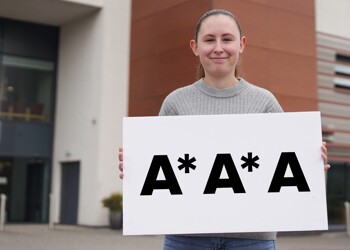 Emily Watts, A-level Mathematics, Biology, and Computer Science student, said:
I am so proud of myself for what I have achieved today; it is beyond what I imagined. When I opened my results I couldn't quite believe it. Today I got A*, A*, A meaning that I will be going on to study Computer Science at the Univesity of Liverpool. I have had an amazing few years at Hugh Baird College and I want to thank everyone who has been so supportive of me and ultimately helped me achieve this goal. The tutors here really are the best; I will miss everyone but I am ready for the challenge of university.
Blake Jones, A-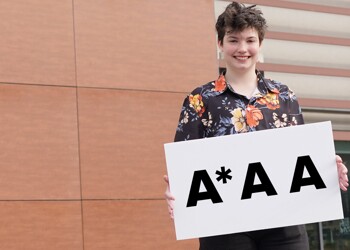 level English Literature, Psychology and Art student said: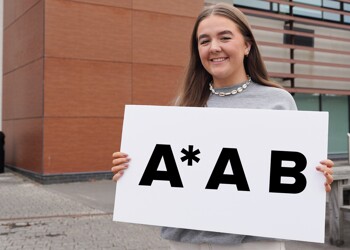 Being a part of Hugh Baird College is like being part of a massive family. Everyone is so supportive. My tutors have been incredible over the last few years and I am thankful to everyone for helping me achieve such amazing results. Today I achieved two A's and an A* and will be going on to study English Literature at the University of Liverpool. Hugh Baird College has given confidence and belief in myself and I look forward to what the next chapter holds.
Sophie Schofield, A-level Psychology, Sociology and Criminology Applied Diploma student, said:
I am absolutely thrilled with my results today; I've achieved A*, A, B. None of this would have been possible without the support and belief of my tutors and everyone here at Hugh Baird College. The last few years have been hard at times but I am lucky to have been surrounded with amazing tutors and a great group of friends. I am now hoping to Psychology at Manchester Metropolitan University. A massive thanks to everyone at Hugh Baird College.
The Blackpool Sixth Form College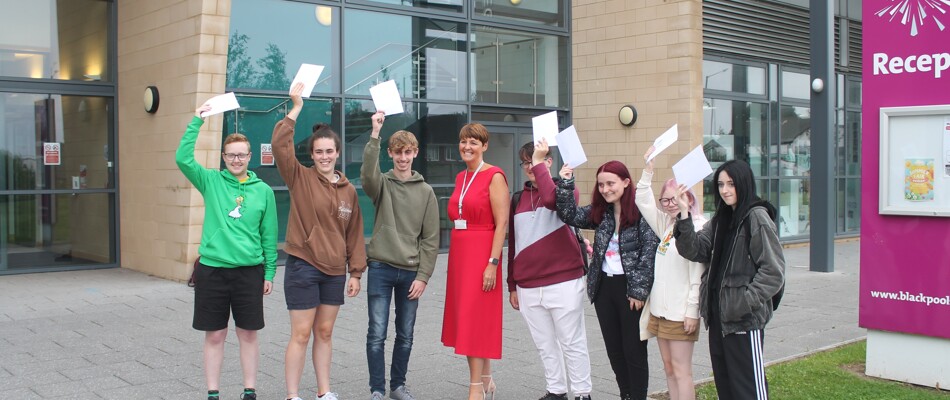 Blackpool Sixth students and staff are once again celebrating an exceptional set of A level and vocational level 3 results. The overall pass rate remained at 99% despite the return to examination-based grading this year.
Blackpool Sixth Principal, Jill Gray, commented, "We are thrilled that our students have achieved these wonderful results. They have worked incredibly hard over the last two years and have shown real dedication and resilience when sitting formal exams and assessments, many for the first time; we couldn't be more proud of their achievements... What a fabulous year! Our 50th year as Blackpool Sixth, an outstanding Ofsted inspection and now these amazing results! We wish all of our students every success and happiness for the future."
Newcastle and Stafford Colleges Group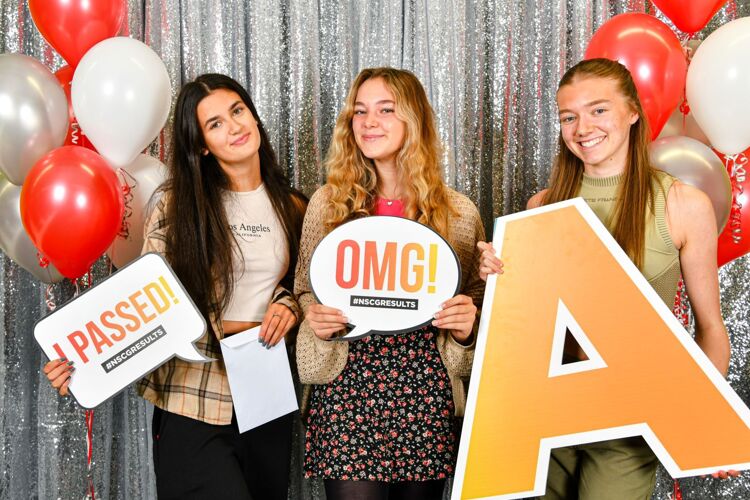 64.4% of A Level entries achieved high grades A*-B, an increase of 13.3% since 2019, when formal examinations were last sat; 87.3% achieved A* - C grades. 49% of BTEC Extended Diploma entries achieved high grades DDD or above (equivalent to AAA at A Level). Top performing students at the college are expected to progress to a number of prestigious universities across the UK including: Cambridge, Oxford, Keele University, King's College London, Birmingham, Bristol, Durham, Leeds, University College London, Manchester, Nottingham, Warwick and York.
Karen Dobson OBE, Principal and Chief Executive of NSCG said: "I am absolutely thrilled for our students who have worked incredibly hard in challenging circumstances over the last two years to achieve these outstanding results, which are a true testament to their relentless resilience, determination and drive."
Varndean College, Brighton
The overall pass rate at A level is 97%, with the majority of subjects achieving a 100% pass rate, and a third of students achieving the very highest of grades of A* and A; 55% of students achieved A*-B and three quarters of students A*-C grades. Students have been similarly successful in vocational courses with a 98% pass rate overall, with 56% of students gaining the very highest grades of Distinction*and Distinction.
This A Level success follows on from Varndean's successful International Baccalaureate results in July, when the College achieved a pass rate of 97% and received its highest marks ever, with an average score of 36.67 points, equivalent to at least three A grades at A Level; 29% of IB students scored 40 points or more, the equivalent of three A*s.
Oldham Sixth Form College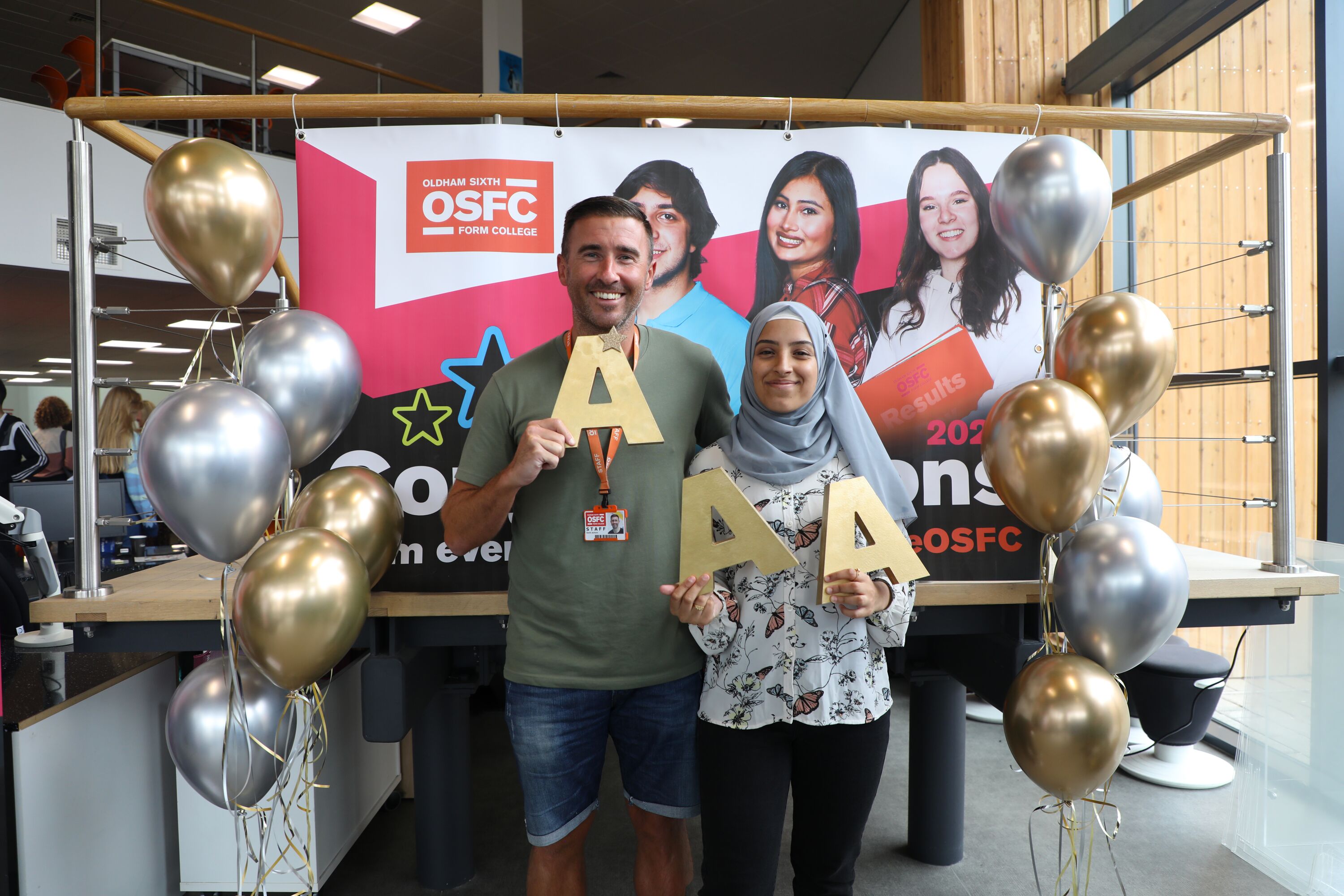 Suzannah Reeves, Associate Principal of the Sixth Form College said "As always there has been much discussion about A level grades on results day, and the expectation this year that grades would fall. We are delighted to say that at Oldham Sixth Form College this has not been the case. Not only have 99% of students passed their A level courses, but more than 1000 A* - B grades have been awarded. This is higher than 2019, when exams were last sat, and 1.5% higher than last year, when no exams took place."
Within the impressive data, there are fantastic individual stories, with so many students reaching their goals. 10 Year 13 students are off to study Medicine, Dentistry or Veterinary Science, while 2 will be commencing their studies at Cambridge University - in Veterinary Science and Mathematics, respectively - this October.
Long Road Sixth Form College
Despite a challenging start to their sixth form education during the pandemic, and facing exams for the first time this summer, students have achieved extraordinary results across the board with over 50% of all A Level results awarded at the highest grades possible of A* - B! BTEC and CTEC Applied students excelled too with sweeping success across all subjects; particularly spectacular grades were achieved in Sport, Health and Social Care, and Business and Media with many students securing places at their first-choice university.
These results highlight not only the adaptability and tenacity of our students, but also of all the dedicated staff at Long Road who have expertly supported them through the uncertainty of the last 2 years.
Esher Sixth Form College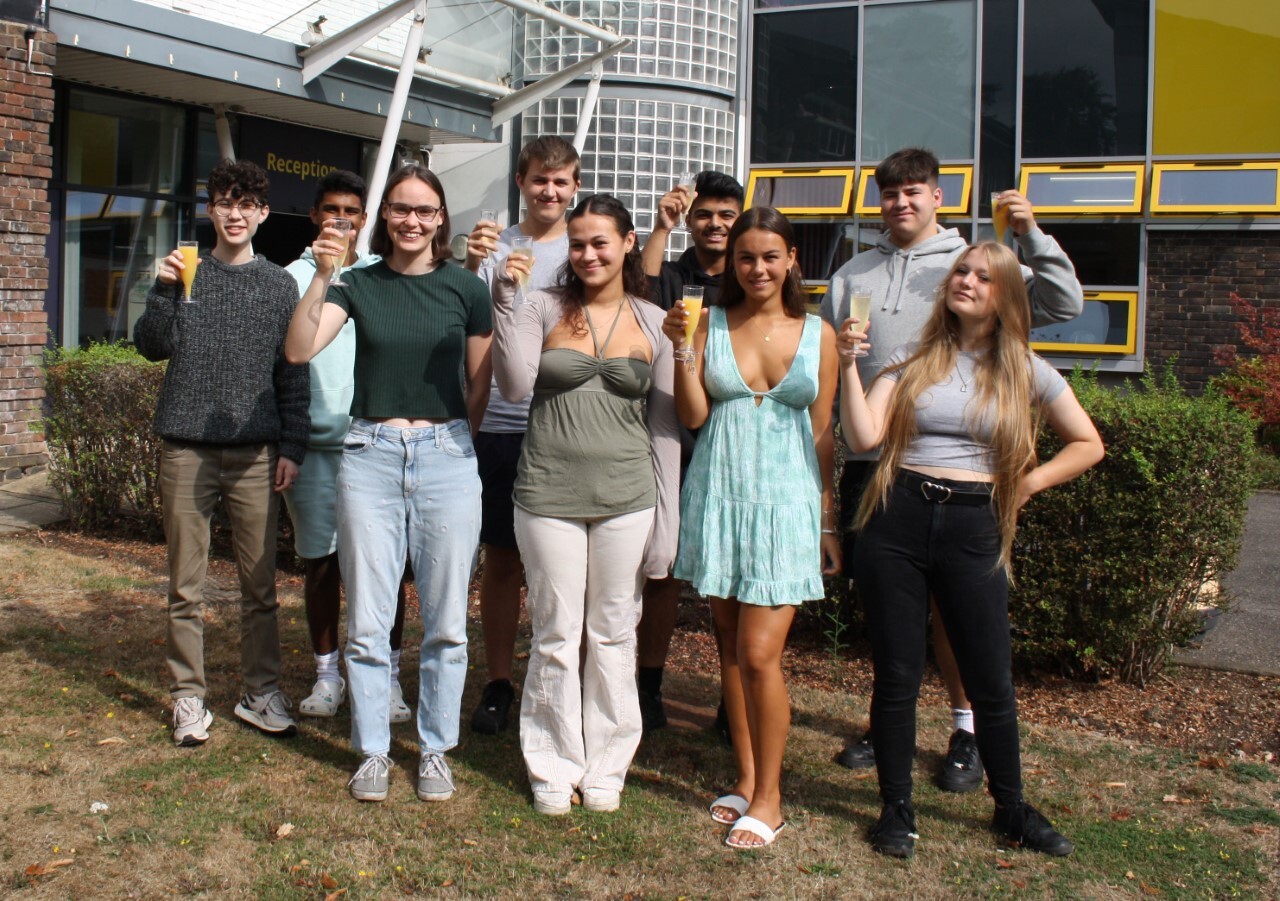 Esher Sixth Form College is pleased to report a 99.4% pass rate at A Level (68.4% A*-B grades). The proportion of students achieving the highest grades is particularly impressive, especially considering the challenges they faced in learning in the middle of a pandemic. Students studying BTEC courses also achieved excellent results. An impressive 179 students achieved three or more A Levels at A* or A grade, with 48 students' students receiving 3 or more A* grades.
Dan Hards, the College Principal, said, "I would like to congratulate our students and their teachers on Esher Sixth Form College's outstanding 2022 examination results. Due to the pandemic, students were unable to take their GCSE examinations in Summer 2020, so for many, these A level and BTEC examinations were the first external assessments they had taken. To achieve such strong examination results in these circumstances is a huge credit to the whole College community. We wish all our students' success as they move on to their next destination, whether this be higher education, employment, training, or an apprenticeship."
Havering Sixth Form College
Havering Sixth Form students are celebrating yet another very strong set of A Level results this year. Students at the college in Wingletye Lane, Hornchurch - part of New City College - achieved 100% passes in a variety of subjects ranging from Business, Chemistry and French, to arts subjects Dance, Drama & Theatre, Music and Music Technology.
Principal Janet Smith, who has responsibility for A Levels across New City College, warmly congratulated this year's students, saying: "The class of 2022 has worked incredibly hard for their achievements this year. Having had two years of disruption to their learning due to the Covid pandemic, these students have displayed great determination and resilience and their success is extremely well deserved. I join my colleagues in congratulating this remarkable student cohort and wishing them every success in their next steps at university and in their future careers."
Xaverian Sixth Form College

A Level students achieved a pass rate of 99%, with 34% of students achieving A* to A grades, 62% achieving A* to B grades and 85% achieving A* to C grades. A record achievement of 313 A* grades were awarded, with particular success in English Literature, Film Studies, Mathematics, Politics and Psychology. Graphic Communication and Music recorded similar success with over 90% A* to B grades awarded.
Principal, Tony Knowles, said: "We have been on an incredible journey with our Year 13s who have demonstrated inspiring determination and enthusiasm. Today's results reflect so much of what is unique about Xaverian College, extraordinary students with ambition, first-class teachers and dedicated support professionals working together to create this amazing momentum. I am extremely proud that we have been able to play a part in our students' success to date and a small part of who they will become in the future. We wish them all the best for their next chapter."